Bathrooms are often the first room in a home to show wear and tear. Old wallpaper, faded fixtures, and stained floors can add to a less than ideal bathroom.
These taxing maintenance areas are bathrooms, one of the biggest concerns for homeowners even though they are one of the smallest rooms on a property.
The nature of bathrooms showing signs of degradation caused by time and use is why many people opt for a complete bathroom remodel.
But, how do you avoid the same mistakes that cause your bathroom to age early? By opting for a Peel and Stick Wallpaper when taking the overhaul route.
What is Peel and Stick Wallpaper?
Peel and Stick Wallpaper is the perfect bathroom remodel decision because it is quick, easy, and affordable. This type of wallpaper is removable and can be replaced with new wallpaper anytime you want. Some popular options for wallpaper bathroom include:
Peel and Stick Vinyl Wallpaper:
This type of wallpaper is elementary to install and can be removed without any damage to the wall. It is durable and can endure water stains without damaging the paint, giving off a polished look all day long.
Peel and Stick Laminate Wallpaper:
This type of wallpaper is similar to vinyl wallpaper but has a more durable surface. It is also easier to clean than vinyl wallpaper, which makes it a good choice for bathrooms with children or pets as it can sustain scratches without tearing.
Peel and Stick Murals:
This type of wallpaper is perfect for larger bathrooms or rooms. It is easy to apply and can be replaced with a new design conveniently when you feel it's time for a change.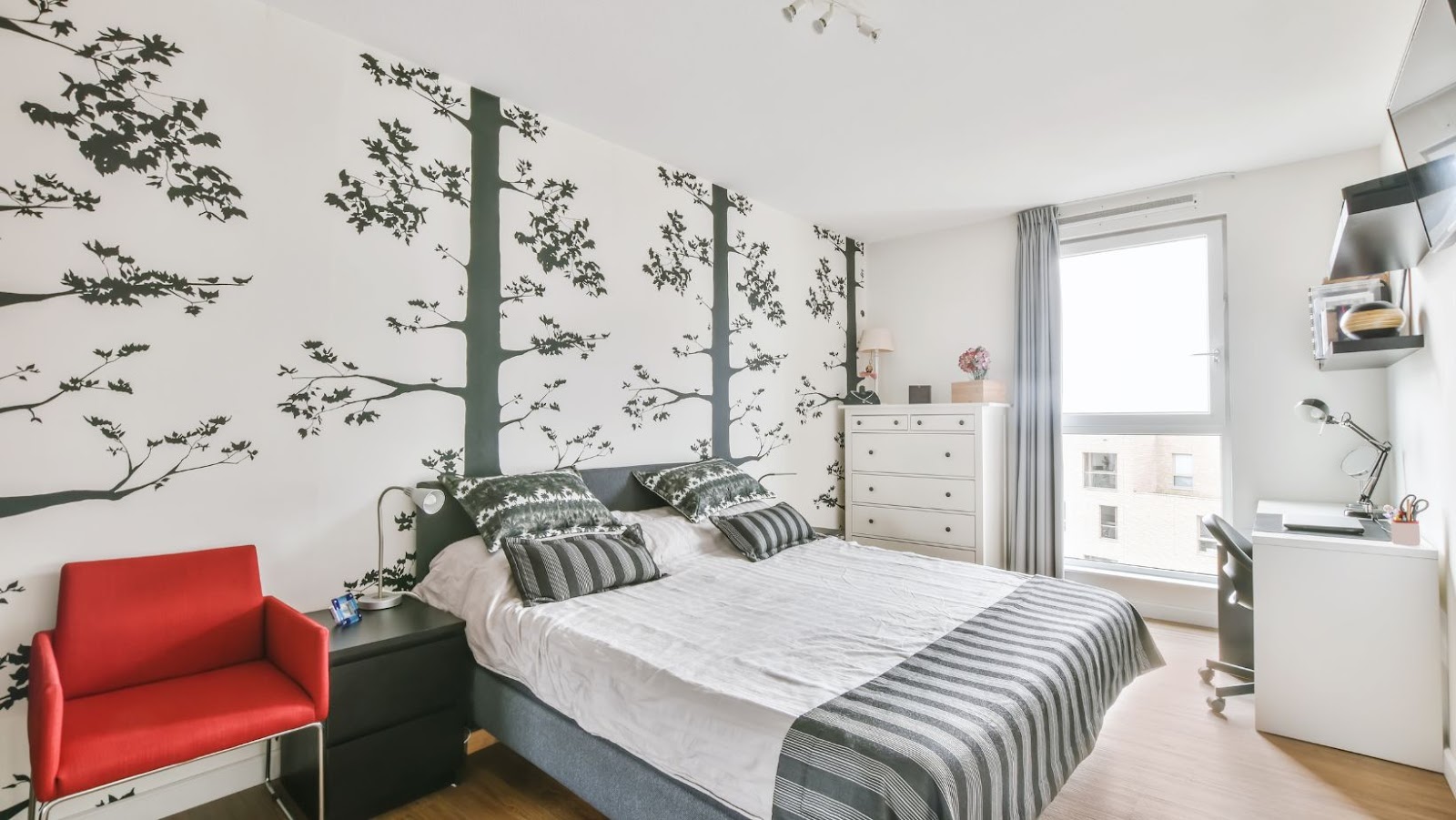 Benefits of Peel and Stick Wallpaper
Bathroom remodels can be just as time-consuming and expensive as any other remodeling project in your home. However, with a peel-and-stick bathroom wallpaper, you can save on costs and see the project through completion whether you've hired professionals or are DYing.
Regardless, here are some more reasons why peel and stick wallpaper is a good option for your bathroom:
It is Easy to Install:
Peel and stick wallpapers come in rolls or sheets, and all you have to do is cut it to the size of your wall and attach it with adhesive.
Peel and Stick Wallpapers are Aesthetically Pleasing:
They are available in a variety of colors and patterns, so you can find one that fits your style perfectly.
Cost-Effective:
Peel and stick wallpaper is affordable. You can find high-quality peel and stick wallpapers that are both durable and easy to remove.
Durable Wallpaper:
Peel and stick wallpapers are durable. They will resist moisture and staining, making them perfect for bathrooms that are used frequently.
They are Easy to Remove Too:
If you decide that you no longer want the wallpaper on your wall, all you have to do is remove the adhesive, and it will come off cleanly.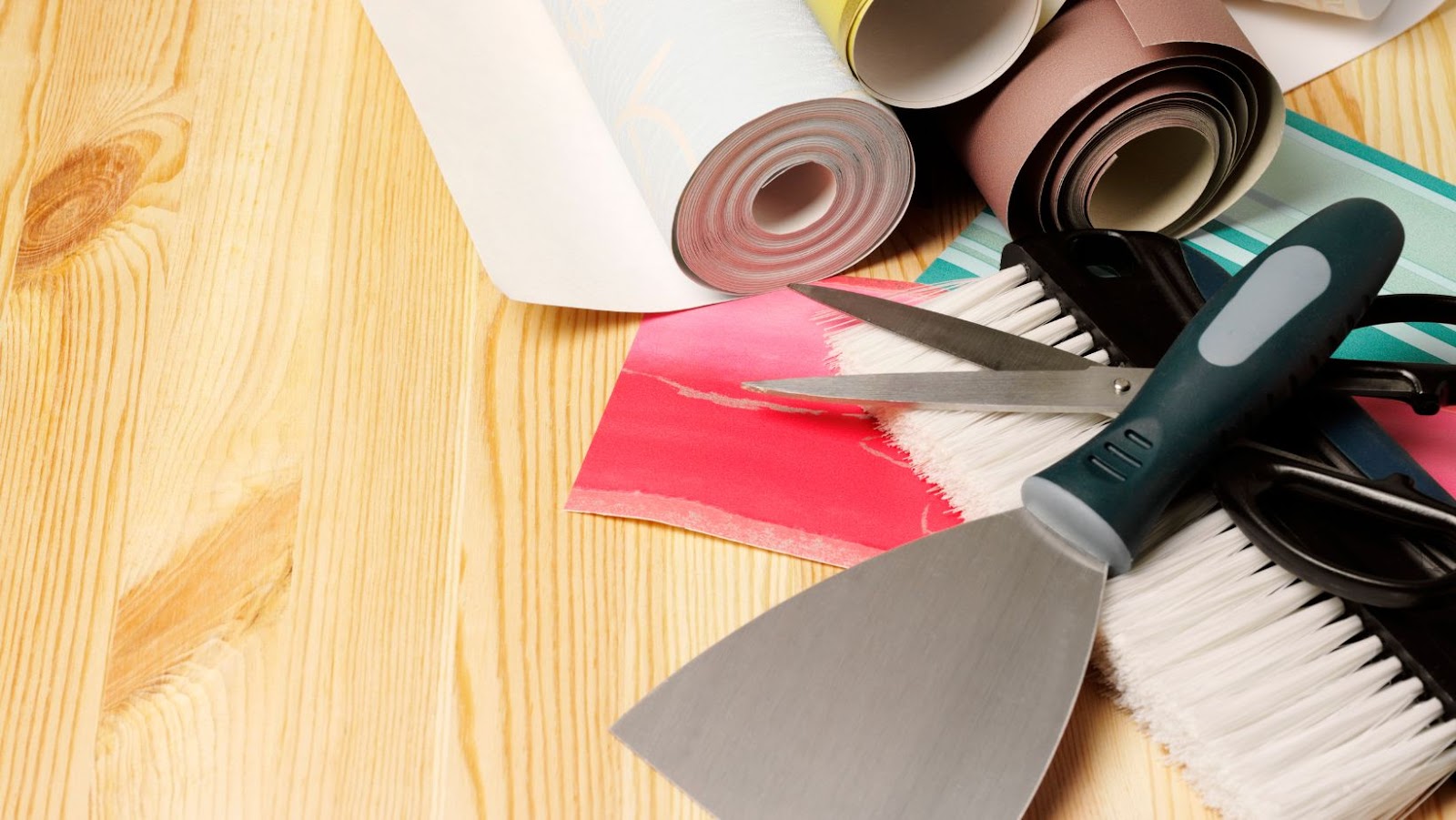 Installation Tips for Peel and Stick Wallpaper
Peel Stick wallpaper is the perfect bathroom remodel decision for those looking for a quick, easy, and budget-friendly solution. Here are some tips for installing the WallMates removable wallpaper:
Start by measuring the space you'll be covering and working out how many sheets of wallpaper you'll need. You'll also want to factor in any trim or borders that will need to be added.
Once you have noted down the measurements, compare the designs and prints from the available online catalog and place an order for the wallpaper sheets.
Once you've got your wallpaper delivered to you, it's time to start the installation! To get started, remove any furniture or other objects from the area you'll be working in. Then, use a dry erase marker to sketch out the outlines of your walls on the paper before pulling it off and depositing it onto the wall. It is also advisable to apply a coat of primer on the clean wall so the adhesive grips better and lasts longer.
Next, apply pressure to the top of the paper with your hands, and then use a card or straight edge to smooth out any bumps or creases. Once all of the edges are smooth, use a spray bottle filled with water to drench the entire surface of the paper.
Next, use a wallpaper knife to cut the wallpaper into manageable strips. Be sure to leave at least 1/4-inch of border around the edge of each strip so that it will adhere properly to the wall.
Once all of the strips are attached, use a wet cloth to wash away any excess water and then dry off the surface of the wall. And that's it!
Conclusion
If you're considering a bathroom remodel, it's important to consider the different options and decide which one is right for you. While traditional wallpaper might be a good choice for many people, there are other ways to update your space that may be better suited for your needs.
Peel and stick wallpaper takes the win when it comes to costs and ease of application. So, weigh your options and browse through some quirky designs today!
Lauren Watts, the chief editor at the usedhouseofvintage.com, shares some styling tips to make your vision come to reality. Check out the blog to find inspiration and get designing!